 EUROPE'S PREMIUM APPAREL MANUFACTURER
From our own european factory, we design, manufacture and supply premium quality, sustainable, recycled and unique upcycled products for the sport, event, leisure, fashion and online retail industry.​
Welcome to
World Sports Company
Our headquarters is located in the heart of Amsterdam. From here we have developed market leading products. Our premium knitted scarf and apparel is manufactured in our own European factory using the latest circular knit technology with quality European Certified hank dyed yarns used to create stunning vibrant colours. All yarns are produced in a sustainable way, respecting our ethics of being a responsible manufacturer.
We have our own European Factory and oversee the complete process
Single Source Manufacturing using the latest technology with low energy consumption. This enables us to reduce the different elements required for the products including less machinery and helps eliminate both potential mistakes and waste. A better solution than old style industrial manufacturers. Our holistic approach means we can go from design to finished product seamlessly and efficiently.
In-house Innovative Design
On Demand Sustainable Solution
You only order what you need and whenever you want. This ensures that you do not have over supply and unnecessary waste.
Recycled Scarves
Top quality and EU certified yarn
One Contact Account Management
Ethical Trade Audited Company
"It's surely our responsibility to do everything within our power to create a planet that provides a home not just for us, but for all life on Earth."
Our premium scarves are the most popular choice as well as the most efficient to produce.
These moderns scarfs are outselling the older flat machine versions and enable you to profit from their popularity. The following sections present a selection of scarves and all of these are included in our loyalty program detailed below.
Our products include:
Volume Range
Premium Range
Kids Range
Personalised Range
Recycled & Eco Range
Rainbow Range
Casual Range
Urban Range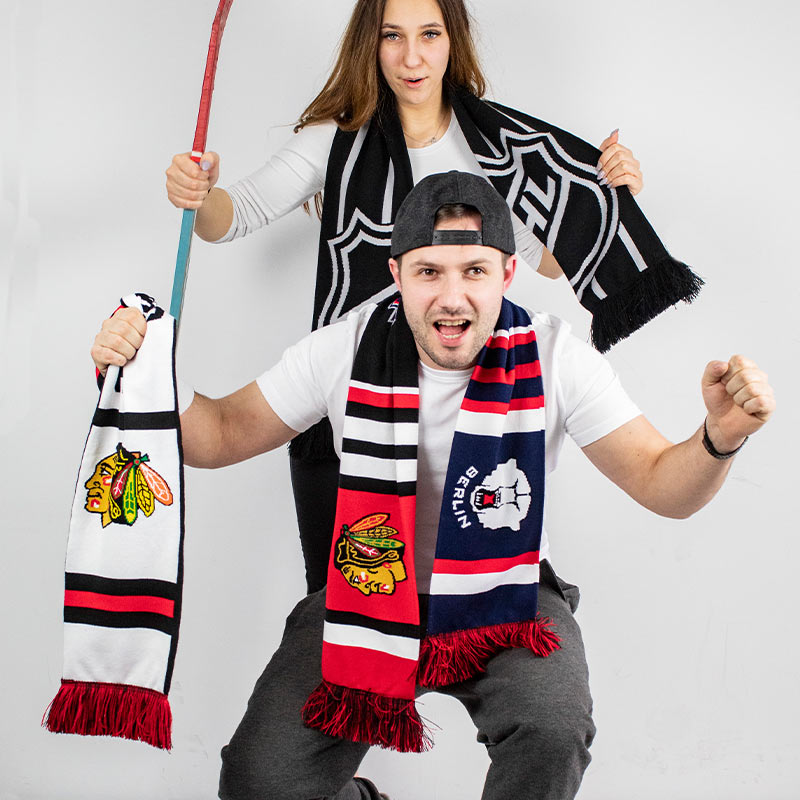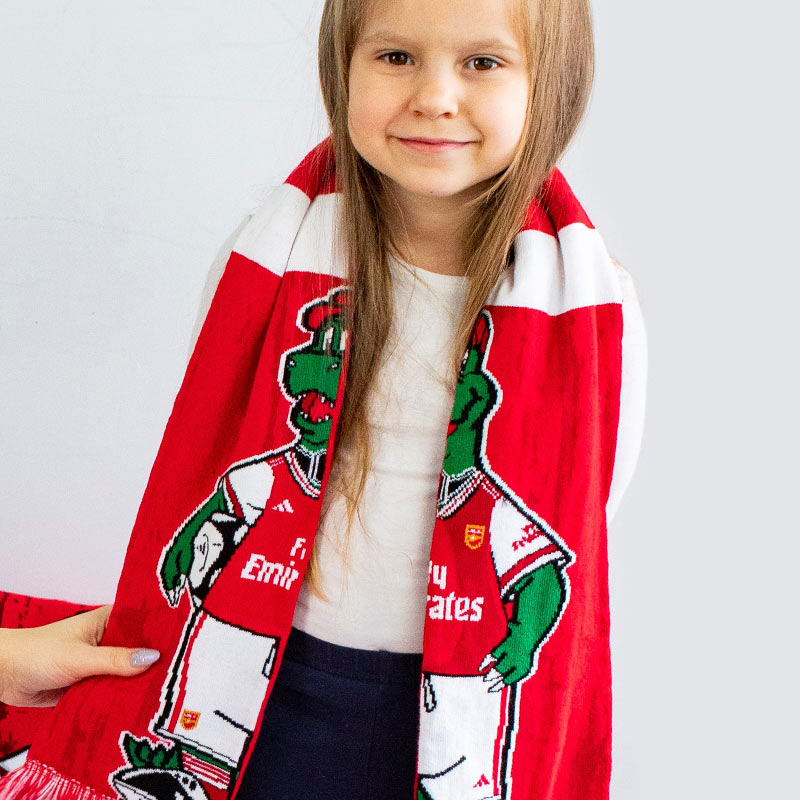 World Sports Company work&nbspethic
In-house Innovative Design
On Demand Sustainable Solution
You only order what you need and whenever you want.
Top quality and EU certified yarn
One Contact Account Management
Ethical Trade Audited Company
Why choosing us is the way to go
In World Sports Company we believe in hiqh quality production environment
european-based production
Customize your experience with extra services of your choice. 
Please discuss the cost of the options with your account manager.
To enable you to maximise sales, we can provide you with studio photography in the correct  format for your online sales channels. 
Should you need to have barcodes added to the products, we are able to offer this service for a small surcharge.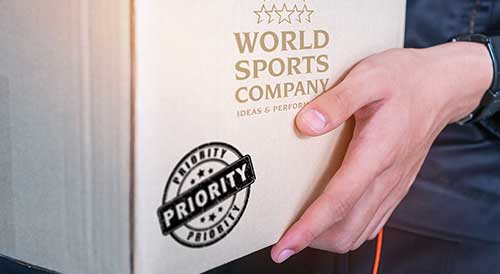 Priority orders are an option for an additional surcharge. At least one week or more will be saved by paying for this service.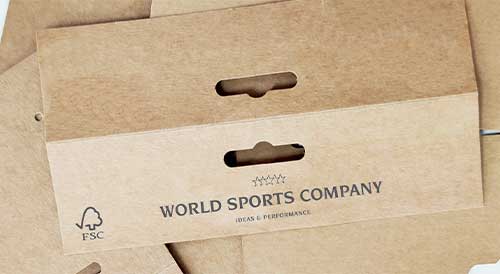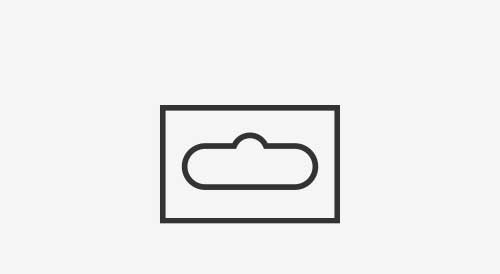 Our scarves are normally supplied with a regular header card subject to a minimum order quantity. However for a small surcharge you are able to be more environmentally friendly and upgrade to our FSC approved solution.
We supply all of our scarves with a modern style satin printed care label. This can be attached either within the fringes or at the end of one side of the scarf.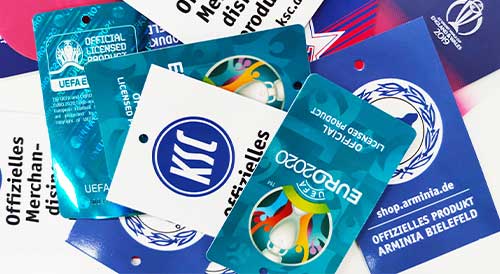 We can produce a printed cardboard swing ticket for an additional charge. We can also manufacture these on FSC approved materials.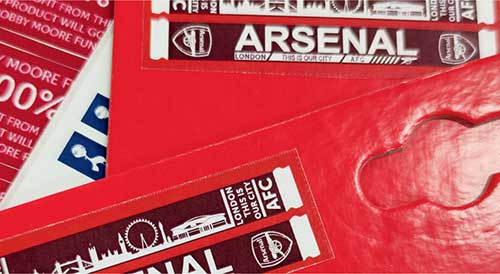 We can produce stickers showing the digital design of both sides of the scarf. This is a great sales tool for a small surcharge.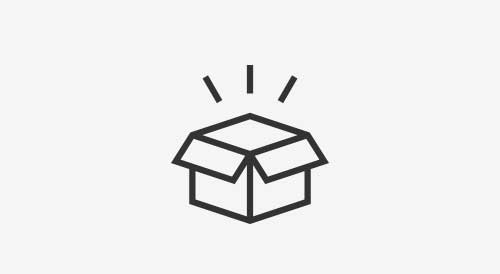 Our innovative team are able to manufacture various different types of packaging. Please discuss with your account manager your requirements.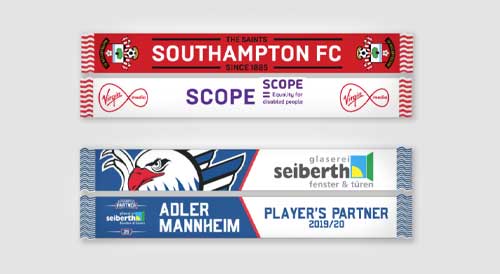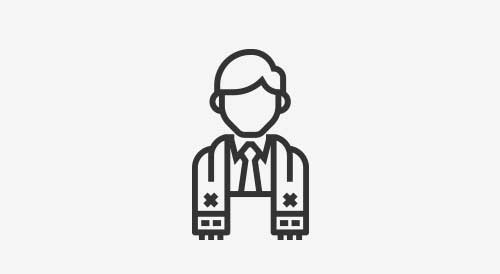 We are able to supply a low MOQ of 25 units upwards for your corporate requirements. These will be produced two times a year together with your normal orders. Any order of 300+ units will be treated as a regular order as per our normal delivery terms.

Welcome to our new customer loyalty program.
We aim to reward all customers for their loyalty and as a result we have created our customer loyality program featured here. No matter how big or small your company we aim to have a plan suitable for all. The seating plan shows how everyone is very welcome to our own arena of quality products.
Please discuss with your account manager how adding products from our different companies can help with upgrading your level and benefit from even better scarf pricing and options.
+ an agreed volume of WSC products
+ an increased volume of WSC products
+ ask us further information
+ ask us further information
+ ask us further information